Gamers of the world; I bring you good tidings of great joy! We have new info on the Xbox 720, well.. kinda.. - and guys, I have to say that it sounds so much more promising than the Playstation 4, as great as a system as it may be. Is Sony holding out on us? Who knows, but what we do know is that Xbox does have some really great shit in store for us all.

So, how did this news come about? A 56-page document was leaked on the NeoGAF forums that went through Microsoft's plan for XBox that extends though 2015. Sources say that it was a document from a meeting held back in 2010, but if Microsoft goes through with what they are said to have planned, we've got lots of hope.

Before we begin, let's note that this whole thing might be fake. No one really knows since sources refuse to comment, however the link to this document was taken down by Scribd via Covington & Burling LLP, who is a major law firm that represents Microsoft, so it may or may not be true. Use your own discretion.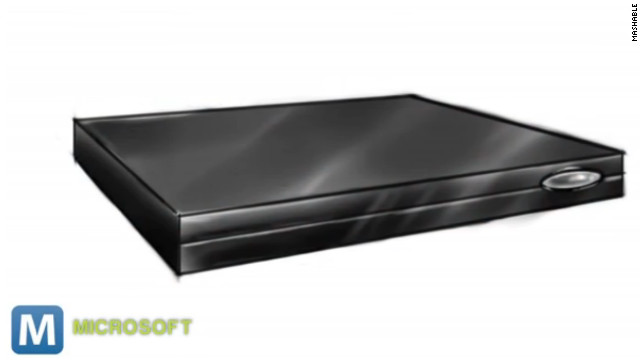 The alleged design of the 720 according to the leaked paperwork.

So, right now we have some info on what might be up with the Xbox 720. I'm going to throw it out there that until it's confirmed, I'm NOT calling the new Xbox by its codename, which if you don't know, is Durango. The draw up of the 720 is very sleek and slim, almost like a thick laptop.

So here's what we know, whether it's leaked info or not, is going to happen; Kinect. It's going to be better. I remember watching the videos when it was still Project Natal and it had everyone extremely psyched as if it was a new turn in technology as we knew it. While when it was presented it was, it didn't deliver the kind of promise that we hoped for. This time, however, there's going to be improved voice recognition, better motion sensing (shocking, I know), and allegedly able to recognize four people in its camera.

Xbox is going to become more versatile, or so it's said. You'll be able to record TV in the background while playing a game, functioning like DVR. According to the leaked goods, Microsoft is releasing "Project Fortaleza" which is said to be their new augmented reality glasses that are wi-fi enabled, 4G and mobile so you can take it around with you, offering "real time on people, places, and objects."

I'm certainly looking forward to Xbox being able to play blu-ray, that's for sure. A bit late, but definitely better than never (go Sony?). It's also said that it'll be able to support 3D graphics. Not shocking.. actually, I expect it. I expect that the Xbox will be able to do what the Playstation currently can and then some.

How much is this little bundle of joy going to cost? Not that much, so it's said. I highly doubt it, but according to our info, it's saying $299. I can't fathom a new system being that inexpensive. It does make us fans wary of the genuineness of the documents, but again, we're holding on to some of that promise. The NeoGAF forums are blowing up about this document being a fake, and with some good reasons according to what I was reading. The link has been shut down so I can't read the entire 56-page document to decide for myself, but you guys can have a look and see what you think. Yes, the internet is full of trolls as we all know well, but given the bit of information that was dug up, I don't think it's all that out there, really. Only one way to find out... wait til Holiday 2013!

Sources: www.neogaf.com, www.yahoo.com, www.washingtonpost.com