Operation: Raccoon City takes place during the events of
Resident Evil 2
and
Resident Evil 3: Nemesis
- a time where the residents were turning into zombies due to the outbreak of the T-virus. As the player, you have a choice to be a part of the USS - the Umbrella Security Service, where you destroy all evidence of Umbrella's illegal actions, including killing survivors of the outbreak, or you can choose to play as a SpecOps officer, where you try to expose Umbrella for who they really are. Whoever you decide has major consequences and turns of events that will test your loyalty to your respective team.
The name says it all, guys. It's not the typical Resident Evil game that we all know. This is a team-based shooter with very familiar shooter elements (pardon me, I think I just yawned). We do have a few issues that need to be addressed. Don't believe me? Play the game for a half hour and you'll understand exactly where I'm coming from.
Let's first go over what this game is. This is NOT a survival horror. This is not even a survival game. The only element of horror in this game are the zombies which aren't scary to begin with. All it is, is just being able to have fast reflexes, quick thinking, and paying attention to how much ammo you're using. This game features a plethora of ammo due to either finding it or picking up spare ammo from guys you've killed. Also new to the Resident Evil series is how much of those godly Green Herbs are available.
THEY'RE EVERYWHERE. You find more green herbs in this game than you do medipacks in Tomb Raider, and believe me, they were everywhere. It's a third person shooter multiplayer campaign, whether you want to play with your friends, open your game to the public, or you can ride solo. Whatever's clever.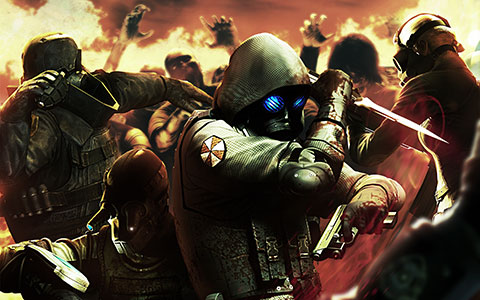 PROS
This is a pick up and play game - no serious strategy involved, no complicated controls. The same buttons for aim and shoot are the same as in most other shooters, left pad button for healing spray and your right button for your grenades. Run up to an object to crouch behind it, press down on the left analog stick to run, and TADA! You have your controls for the game.
As stated earlier, there are a lot of herbs, ammo, and weapons to be found.
Objectives are clearly marked. I'm one of those people that need bright, flashy, neon lights screaming at me to go to a particular area or what I need to do next. Don't judge me. This game was designed for people like that, noting a giant compass rose symbol on the mini map and also in the terrain itself.
If it's something important, it'll glow and have light extending off of the item to ensure that it's not missed. I don't know about you guys, but I kind of like when I have to do some scavenger hunting. Nevertheless, it's there, and it certainly helps when you're in a bind and you need some healing spray right quick.
You have a pretty good amount of characters to choose from. It'll give you a brief history on the character and have in parenthesis that character's role. I chose to be Assault, but you can choose to be a Medic, Recon, Field Scientist and a few others. The tutorials on the characters are simple enough. There's nothing complicated about this game. Not to say that it's without challenges, but it's not intricate.
CONS
The teammate AI is a bit... glitchy, to say the least. They don't always like to follow you for whatever reason, or they'll stay in their firing position and not move, ya know, things like that.
The game itself is kind of blocky. Kind of like I'm playing Modern Warfare 2 all over again. I felt like with today's graphic design abilities that a lot more could have been done with it and they were just lazy. They HAD to get this game out. It feels as if it were a bit rushed during the production process, but you know, I can't really do any better so I should probably keep my mouth shut.
It's a bit on the bland-ish side. Like, I just want to throw some pepper and garlic on it and make it sizzle a bit more than it is. I also haven't beaten this game yet so this is pure speculation. Take this with a grain of salt, people. The environment is nothing to truly brag about, the set pieces are kinda boring... I know Umbrella Corporation is a lot cooler than some steampunk laboratory. It has to be. To do what they do, I'm thinking state-of-the-art equipment, you know? But what do I know, I'm a girl and I like pretty things.
If you are a hardcore Resident Evil fan, like since the very beginning and can write a novel on what all the hub-bub is about, I don't recommend this game for you. This game is more like a spin off of Resident Evil than a Resident Evil title itself - like an authorized user of the title than the genuine series itself.
IGN isn't giving this game good reviews, unfortunately. I haven't gotten to the multiplayer yet, but from what they're saying, it's not really any better than single player campaign. I could imagine that this is a really fun multiplayer game if you're playing with your boyfriend or girlfriend or drinking at your house, but as far as I'm concerned, that's the only thing it's got going for it right now.
So why all the hate for the game if it's Resident Evil? Well, who developed the game? Sure, Capcom's name is on it, but Slant Six Games developed it; the same developers of the SOCOM games and... oh wait, no, that's all they created. I don't know whose idea it was to hand over such a classic title to such a crap-tastic development team should be turned into a zombie and be damned for eternity. I'm extremely disappointed on that decision, but alas, c'est la vie, and the only thing us Resident Evil fans can do is sit, play, cut our wrists and cry.